Research Trip to Minnesota, Ohio, & Pennsylvania
(This blog post was originally published August 3rd, 2022 on the T-Bone Slim and the transnational poetics of the migrant left in North America research project's website)
In late February and early March of 2022, I left my home in North Carolina and headed northwest on an extensive T-Bone Slim research trip that would take me as far as the Twin Cities in Minnesota, then eastward to Ashtabula, Ohio and Erie, Pennsylvania, and ultimately southward back to the more temperate climate of Pittsboro, North Carolina. I should say that while I have not yet experienced a proper Finnish winter, I feel like the climate of Minneapolis during February has given me a bit of a taste of what that might be like…
The main goal of visiting the Twin Cities was to spend time at the Minnesota Historical Society's Gale Family Library exploring their extensive newspaper archives from Duluth, Minnesota during the early to mid 20th century. T-Bone Slim is known to have spent quite a bit of time in Minnesota, especially Duluth, where he visited and spoke to classes of students at Work People's College during the early 1930's. There is even the possibility that he himself may have attended the school as a younger man, however more research needs to be done in order to confirm or refute this hypothesis."Among the collections at the Gale Family Library are issues of the Duluth News Tribune—a mainstream regional English language periodical—as well as the more radical Industrialisti. The Industrialisti was a Finnish language IWW publication that had at times a readership consisting of 10,000 or more working class Finnish Americans.
I wanted to examine the Duluth News Tribune's articles from 1912–1920 because of assertions by multiple sources that T-Bone Slim—before he started writing for the IWW—was a mainstream top reporter for a Duluth based paper. The story went that T-Bone was writing a column reporting on an IWW meeting but that the paper's editor twisted and spun the story to make it portray the IWW in an unfavorable light, which prompted him to quit on the spot and join the union. To date no concrete evidence exists for this story, and I did not come across any articles written by Matti V. Huhta in the editions of the Duluth News Tribune that I was able to view. Nevertheless, T-Bone Slim is known to have had criticism of editors. He once wrote in the Industrial Worker, "I don't believe there is any necessity for a news censor. Editors have been very careful not to let any news get into the papers."
New Discoveries I
Fortunately, the Gale Family Library's Industrialisti collection did result in a new discovery, one that reinforces an understanding that T-Bone Slim indeed had significant connections to the Finnish diaspora in America and to Finnish IWW members in particular. On October 17, 1942, the Industrialisti printed a news item reporting on his death, which included his given name, Matti Valentine Huhta, as well as information about his family background in Ashtabula, Ohio and Erie, Pennsylvania. The article was written by "Jallu," a Finnish IWW correspondent in New York City, who obviously knew T-Bone Slim personally. Perhaps it will be possible to identify this "Jallu" through Finnish IWW membership records, something that researcher Saku Pinta is currently investigating.
Coming back to Ohio and Pennsylvania again was a wonderful experience. This was actually my third trip to Ashtabula and Erie. The first had been a family pilgrimage with my mom in 2018, when we visited family grave sites, the homes where our relatives had lived, and for the first time met our cousins Vanessa and Liza, who are direct descendants of T-Bone Slim. On this most recent trip I was very happy to have the opportunity to spend more time with my newfound cousins, and to even have Vanessa and Liza join me while conducting research at the local libraries. We were happily surprised to discover that since our last visit to the Blasco Memorial Library in Erie, Pennsylvania a digitization project had taken place which scanned all the historical newspapers from the late 19th century up to contemporary times and made them searchable through keywords in a library database. This fortunate development allowed us to easily search terms such as "Huhta" and see what hits came up.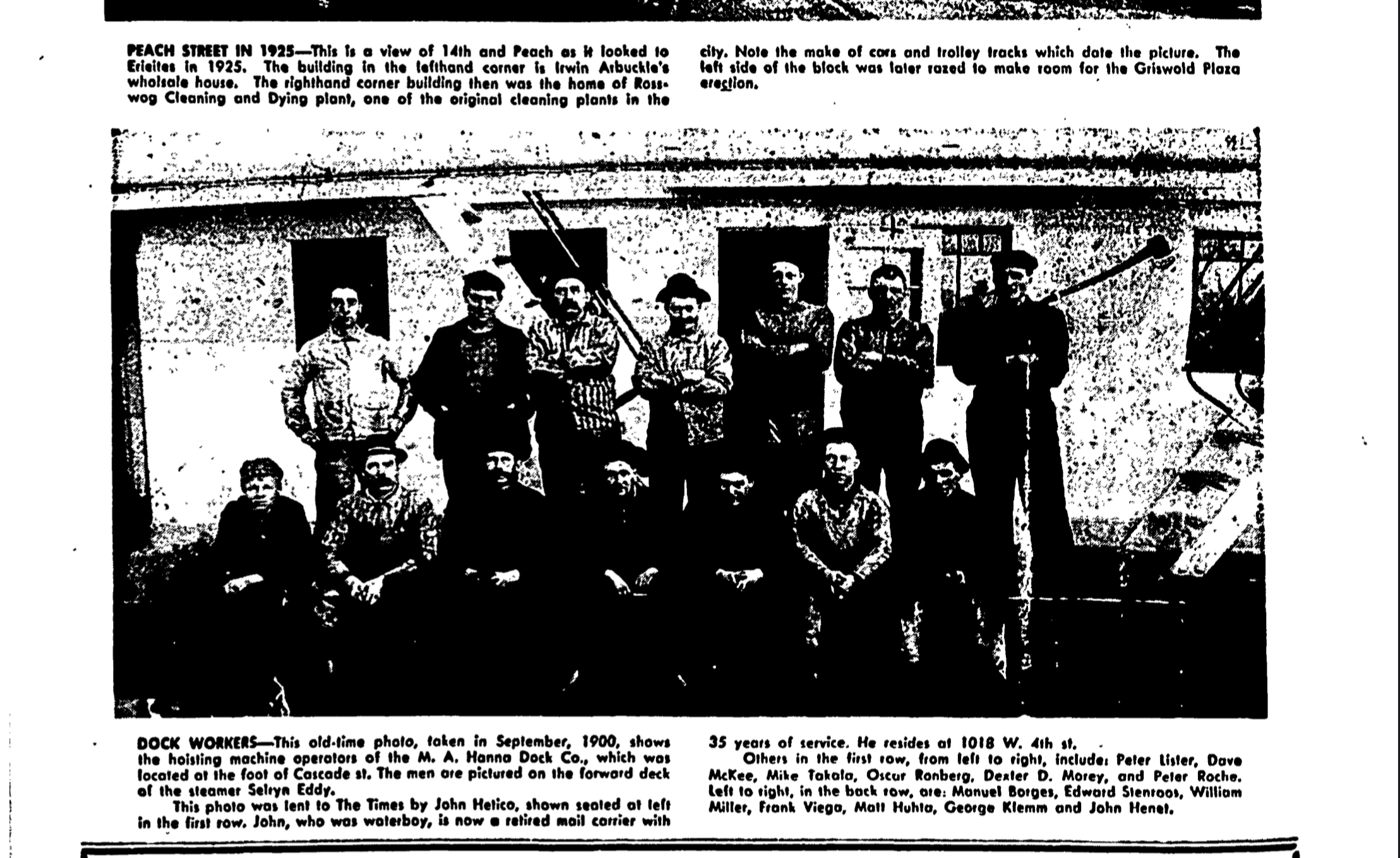 (Hanna Docks workers circa 1900, Matti Huhta is standing in the second row, fifth from the left. Erie Times-News, January 13, 1952, page 51. Erie County Public Library, Blasco Memorial Library.)
We found quite a few interesting new research items including a photo of T-Bone Slim posing with the other workers of the Hanna Docks circa 1900, and a notice of a "Non-Support Charge" filed against him by his wife Rose on December 7th, 1910. The non-support notification mentions that because the defendant had no money for bail, he was kept in jail until the scheduled court proceeding. Also of note is that the warrant of arrest was issued by an Alderman Klemm. Could this Alderman actually be the same George Klemm who is standing directly to T-Bone Slim's left in the 1900 photo?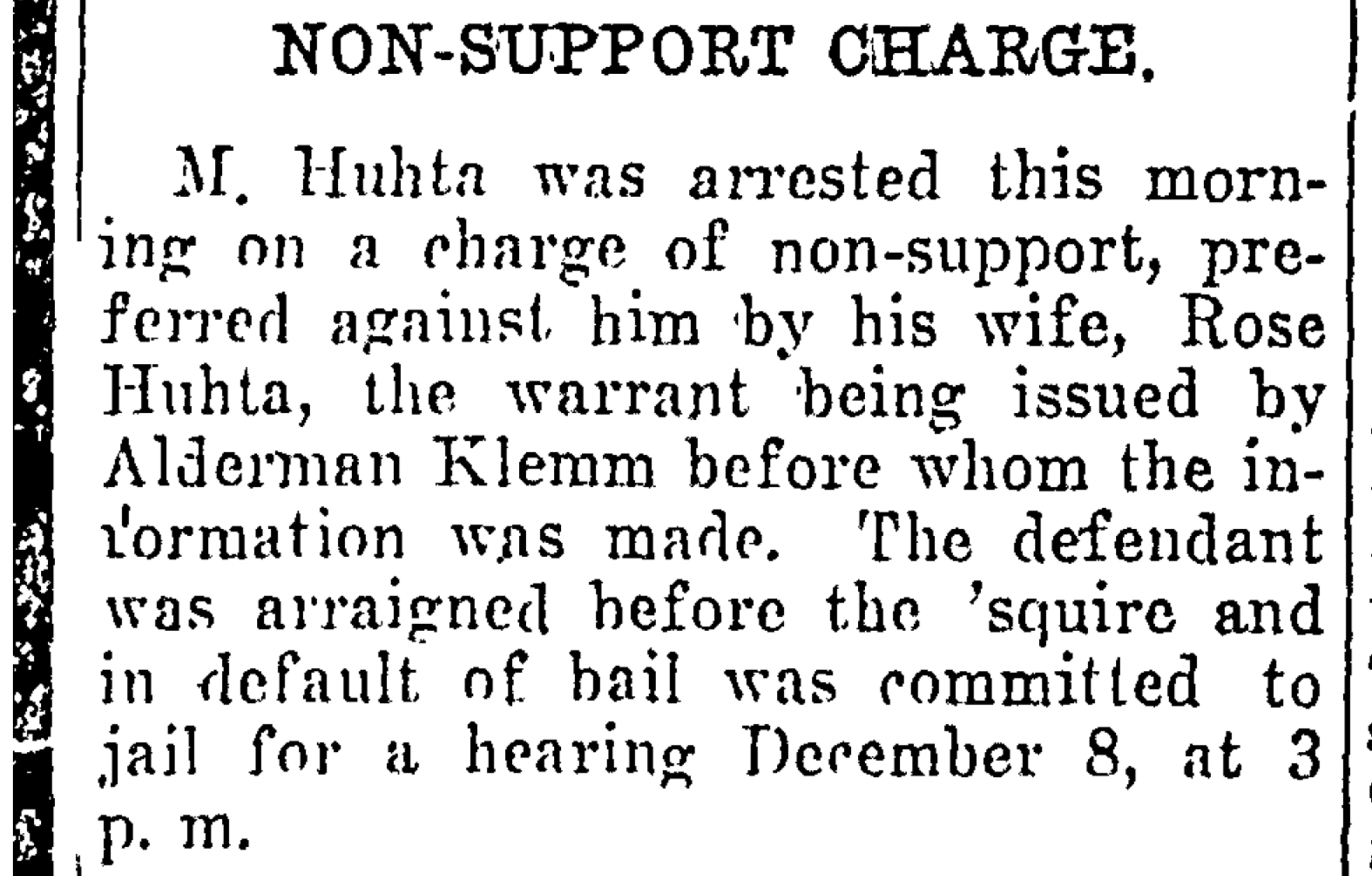 (The non-support notification. Erie Times-News, December 7, 1910, page 2. Erie County Public Library, Blasco Memorial Library.)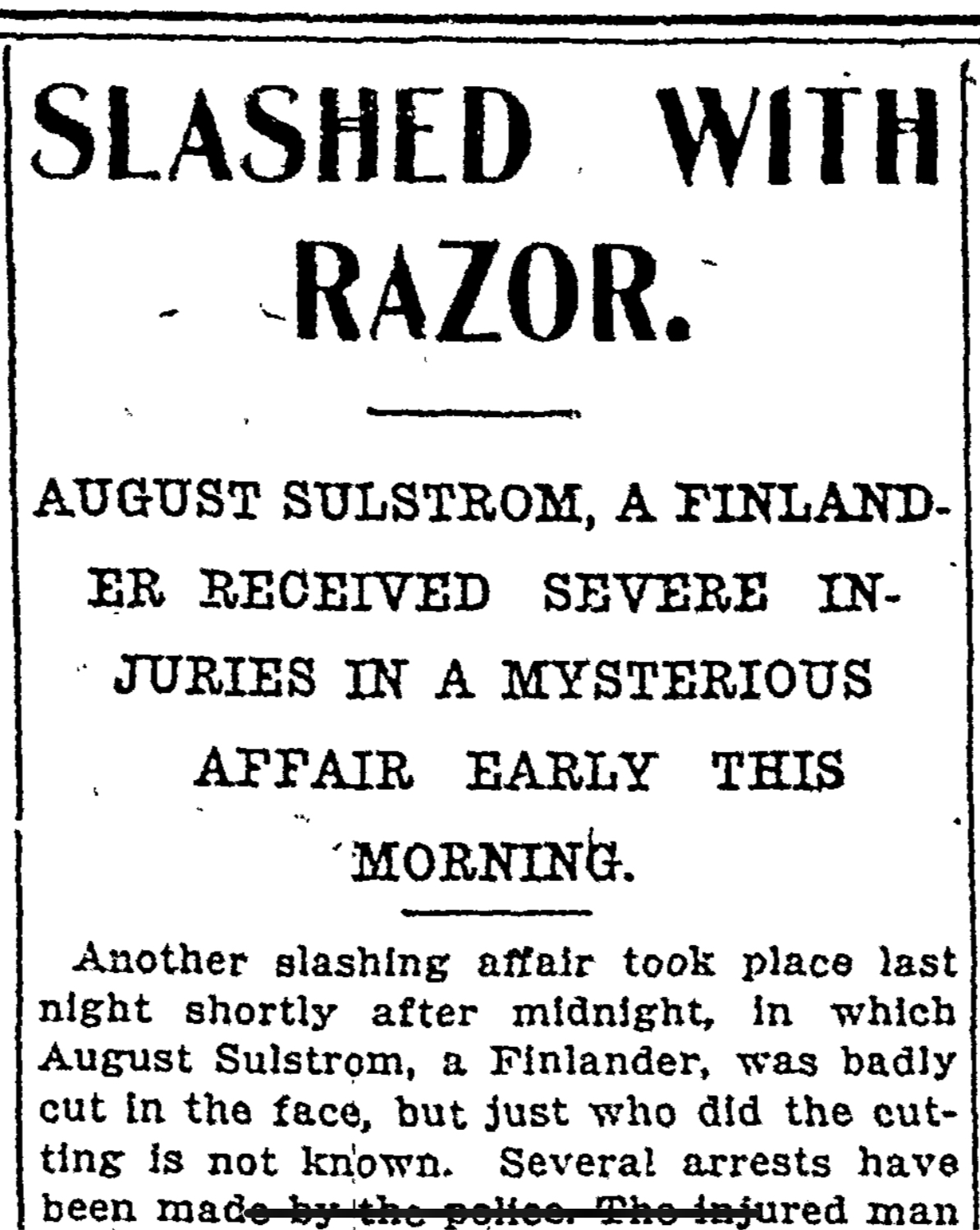 (Erie Times-News, July 30, 1903. Erie County Public Library, Blasco Memorial Library.)