Finding My Finnish Roots
(This blogpost was originally published August 17th, 2022 on the T-bone Slim and the transnational poetics of the migrant left research project website) 
My great great grandparents—Matti and Brita Johanna Huhta—left Kälviä Finland in 1879 to seek a new life in the United States. They settled in Ashtabula, Ohio along the coastline of Lake Erie where they raised a family of five children which included their eldest son, Matti V. Huhta (T-Bone Slim), and their youngest daughter, Sofie Huhta, my great grandmother. Neither T-Bone, Sofie, or any of the other Huhta children ever had the chance to set foot in their ancestral homeland.
In fact, it seems that none of the subsequent generations of Huhta descendants made it back to Finland until the summer of 2018 when I had an opportunity to make my first visit to the old country. That trip came about in a rather interesting way. At the time, I had been focusing on the release of my first album, Cast Fire—sending emails, making phone calls, and generally working on promotion of the record. Simultaneously I was also trying to unearth as much information as I could about my recently rediscovered Finnish American relative, the hobo songwriter, poet, and IWW columnist known as T-Bone Slim. At times it seemed I was neglecting my responsibilities to the album project and was instead devoting most of my energy to following the trail of scattered breadcrumbs which outlined the life of my great granduncle. By doing so I hoped that I would piece together a more complete picture and understanding of who he was, where he came from, and thereby pay homage to his forgotten legacy and uncover a lost chapter of my own family history.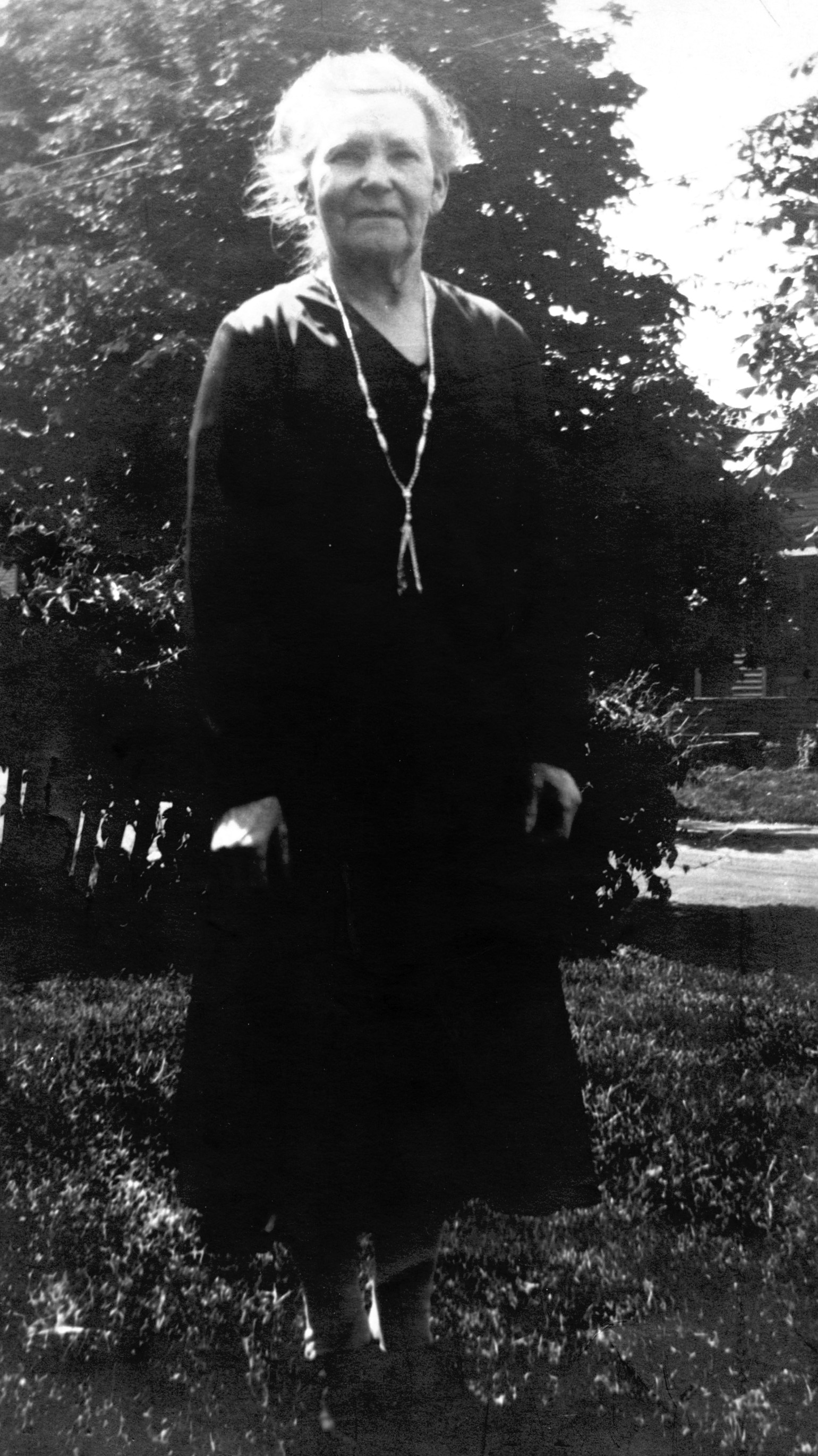 (T-Bone's mother Brita Johanna Huhta. Photo: Westmoreland Family archive.)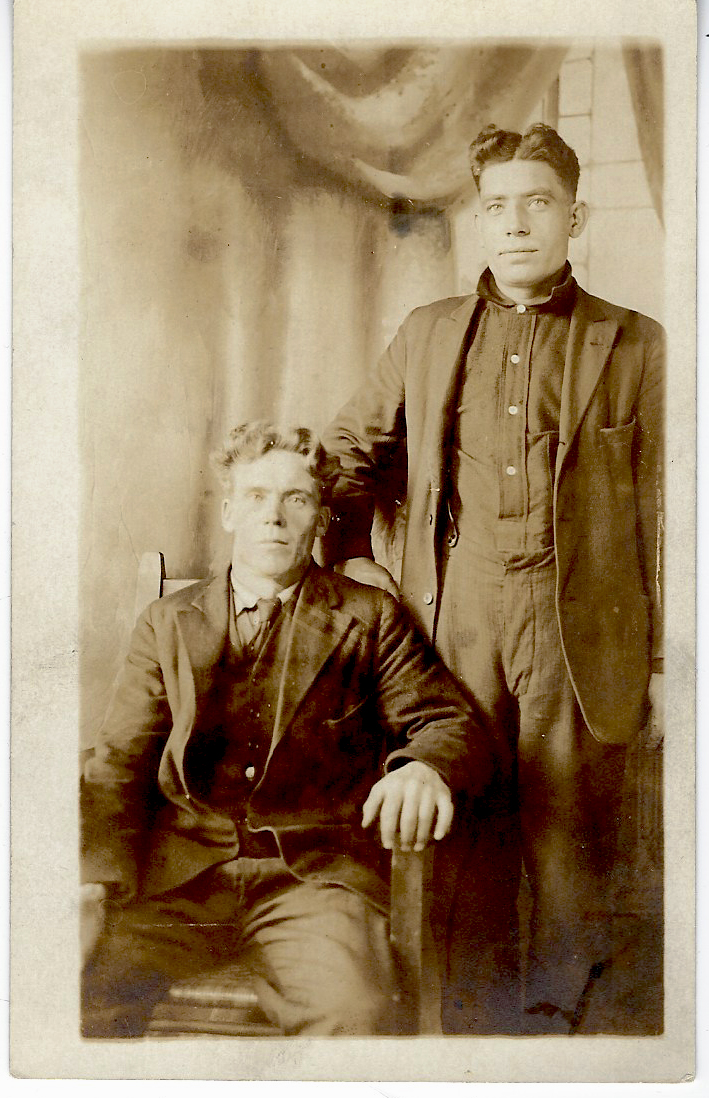 (T-Bone's Father sitting in a chair. The identity of the other man is unknown. Photo: Westmoreland Family archive.)
One day, as I was writing emails attempting to book shows supporting the release of Cast Fire, I had a bit of a strange idea pop into my head. Why not reach out to some people in the Finnish music scene and see if there might be any opportunities for me to perform my own original music and new versions of T-Bone Slim's songs in Finland? It seemed like a long shot, but I also felt a kind of mystical and synchronistic sense that the spirit of T-Bone Slim was somehow being resurrected in these times—as if something auspicious was in the air… So, I acted on the impulse, and through internet searches found the names and information of some Finnish booking agents to contact. I wrote up a few emails telling the agents who I was, giving a brief overview of T-Bone Slim, and asking if they might like to book me a summer tour in Finland. However, soon after I sent those messages, I began to question the soundness of my little email campaign. I started to wonder if I might be coming off as some entitled American expecting to find open doors in Finland just because his great grandmother's older brother was an iconic hobo of Finnish descent. So I went to bed that evening feeling like a fool, sure that my emails would be completely ignored. But to my great surprise when I checked my inbox the next morning there was a response from an agent in Helsinki saying that my project sounded very interesting, and he would be happy to help! He mentioned that a book had recently been published about T-Bone Slim by author Ville Juhani-Sutinen, and that a well-known Finnish Hip Hop Artist, Paleface, had just formed Laulava Unioni a band that plays Finnish IWW songs including ones written by my great granduncle. The agent put me in contact with both Ville and Paleface and helped me to get shows lined up for the summer.
My first performance in Finland was with Paleface in Porvoo during late August 2018. At some point in the show Karri told the audience that "We have here the flesh and blood of T-Bone Slim!" And got the crowd to call out "Welcome home John!" It was a really heartwarming and meaningful experience for me; to come to a land and culture that is totally new and experience such an open-hearted reception. I went on to have a great run of shows in various cities and towns around Finland and finished the trip by filming a music video for one of my original songs The Sparrow with Finnish director and cinematographer Cristal Alakoski. I returned to the States that fall with a lot of enthusiasm and began planning a new recording project, a collection of songs written by T-Bone Slim.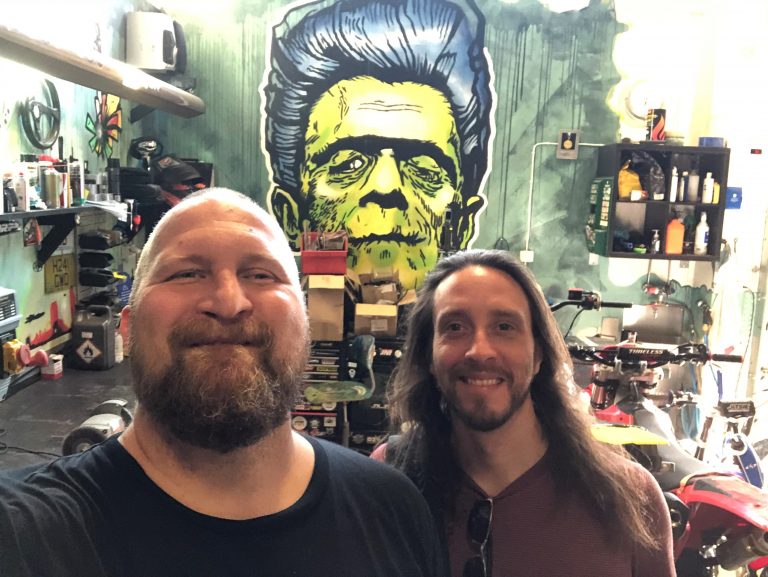 (Paleface and John in Tampere 2022. Photo: Karri Miettinen 2022.)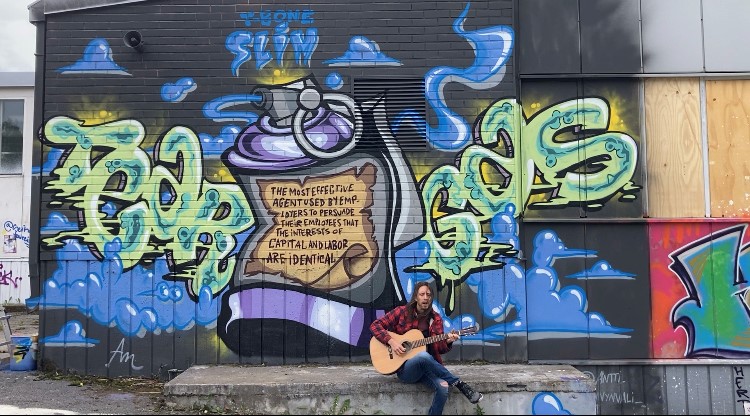 (John playing by Antti Männynväli's T-Bone Slim Tear Gas mural in Kangasala 2021. Photo: Antti Männynväli 2021.)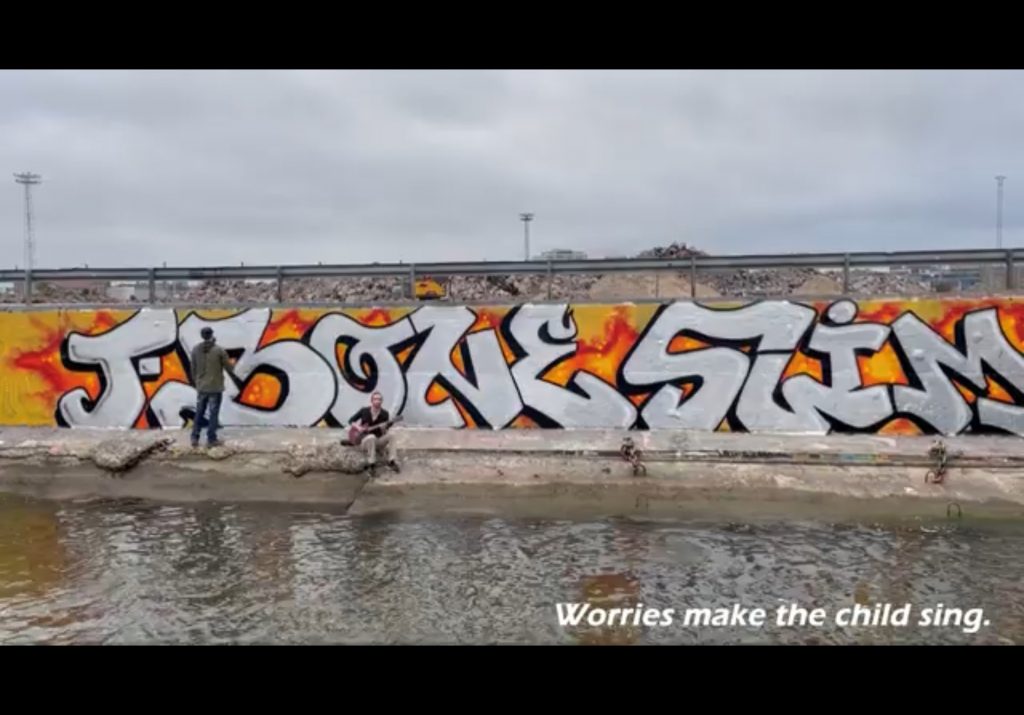 I've come back to Finland every summer since, with the exception of 2020. On these trips I've had beautiful experiences performing my own renditions of T-Bone Slim's songs at venues, festivals, and even busking on the streets of Helsinki. I've also met many wonderful musicians, artists, and researchers who have become friends and collaborators, and I've learned more than I ever hoped to know about the culture and circumstances in which my Finnish ancestors lived.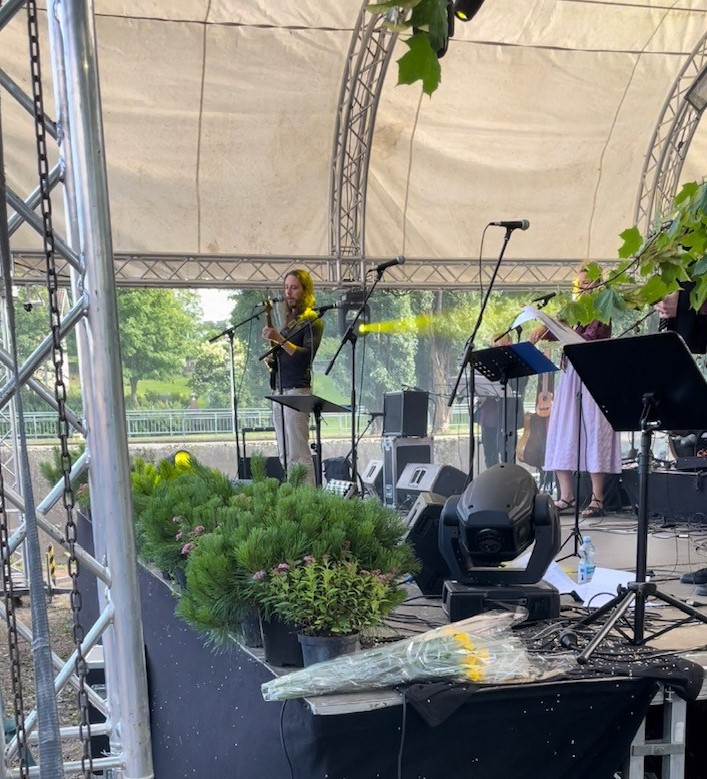 (John performing at Valkeakoski Workers Music Festival 2022. Photo: Esa Kuloniemi 2022.)
One of the highlights of my travels in Finland so far has been the opportunity to visit "torppa" sites in Kälviä where my Huhta great great grandparents lived before they immigrated to the U.S. A local historian in Kälviä, Jukka Hilli, guided myself and fellow T-Bone Slim researchers Kirsti Salmi-Niklander and Lotta Leiwo to the locations (blog entries about this trip in English here or in Finnish here). One of these torppas, Hietakangas, where T-Bone's mother Brita Johanna lived as a child, was particularly memorable as there's a giant spruce tree right in front of the remains of the cellar. It's a tree which is undoubtedly old enough that it must have been there in the 1860's when she was growing up.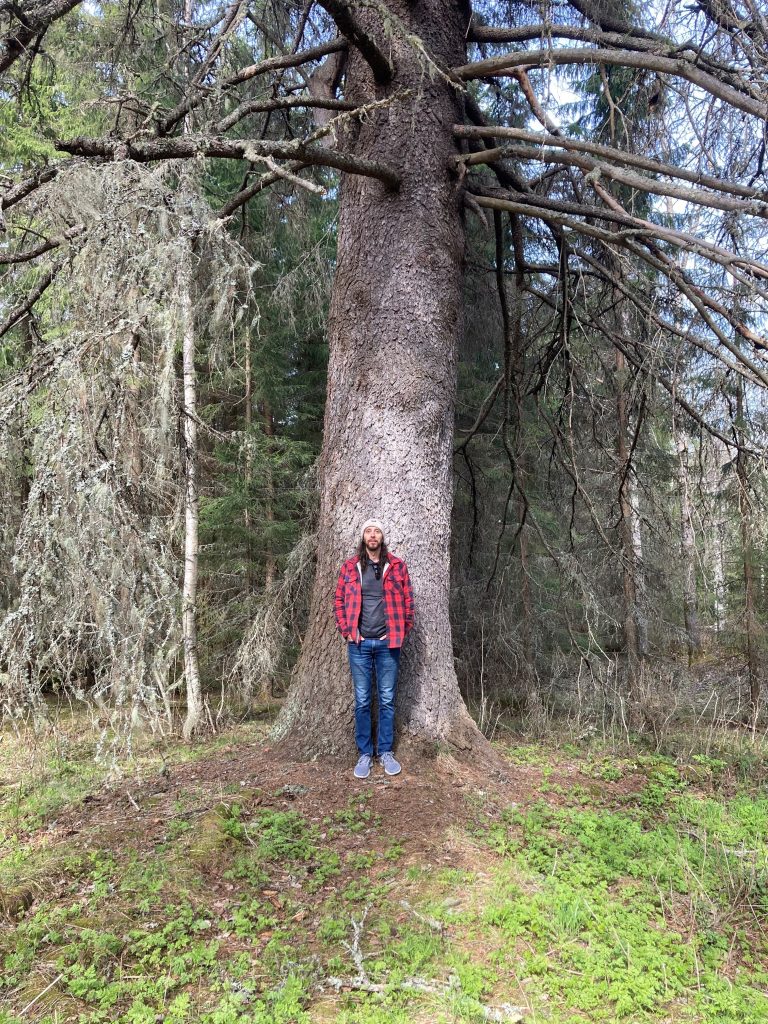 (John with the spruce tree at Hietakangas. Photo: Lotta Leiwo 2022.)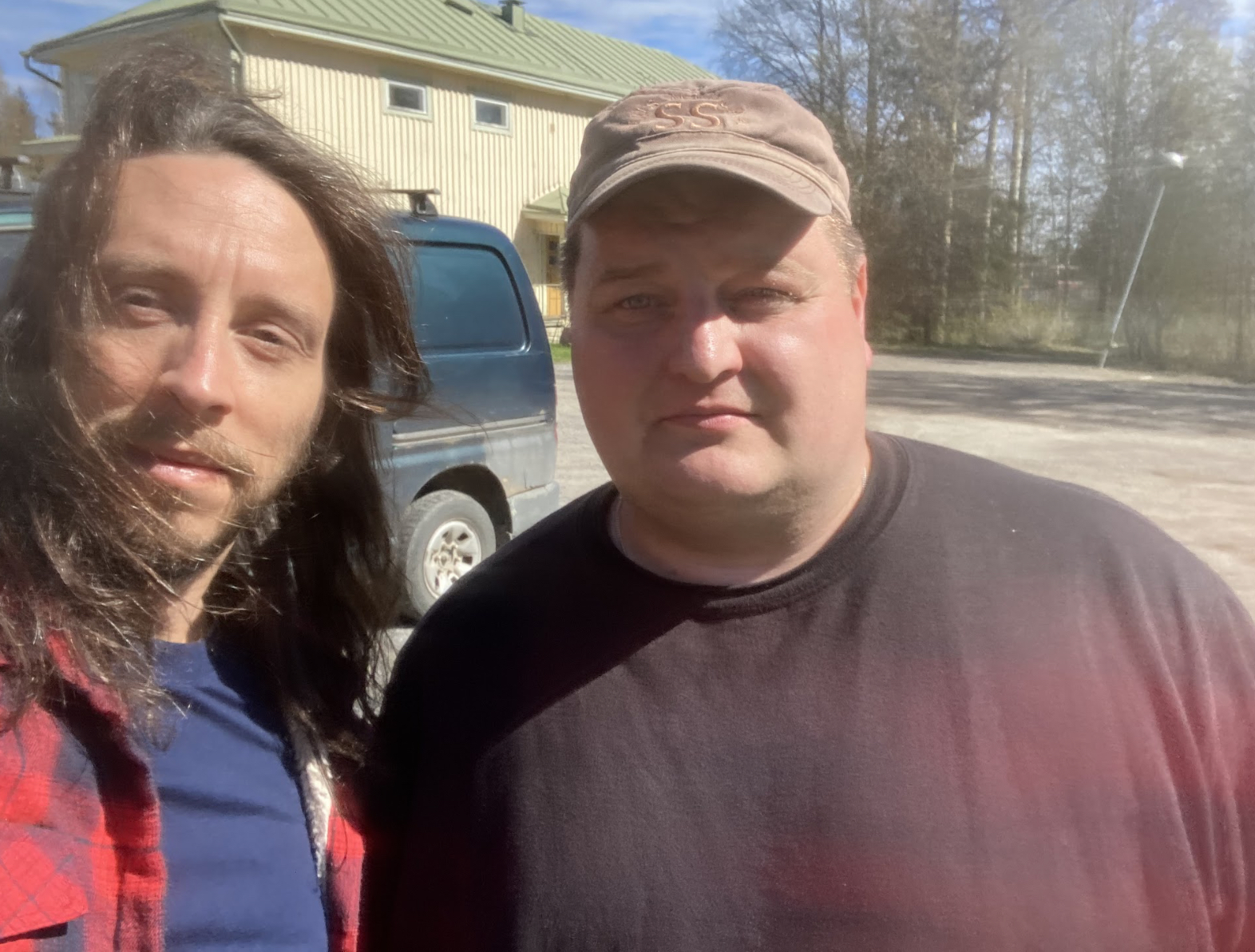 In August 2021, as the culmination of a four month artist residency at the Kone Foundation's Lauttasaari Manor, university lecturer and title of docent Kirsti Salmi-Niklander and I hosted the first ever T-Bone Slim seminar which was held at the Finnish Literature Society. It brought together academics, musicians, artists, and writers to present the life and work of Matti V. Huhta to an international audience for the first time. The seminar also helped lay the groundwork for this project, 'T-Bone Slim and the Transnational Poetics of the Migrant Left in North America', which is being funded by the Kone Foundation. Our team has produced a wealth of new research. I'm excited to continue this collaboration and look forward to sharing new findings, music, and art which arises from our efforts.